The question I dislike most during job interviews (or when doing small talk with strangers and relatives) would be "what do you want to do in life?" with the occasional variation of "where do you see yourself in 5 years?"
I might have an idea of what I want to be or where I want to be, the problem is that the people behind these questions always want specifics.
"No, but what position, what do you really really want to be?" Did everyone else have it all figured out?! Am I the only one who has no idea?
After taking my last required unit during the midyear, I went on job search mode, something I haven't done in two years! And so began an adventure into the realm of mixed feelings: confidence, anxiousness, doubts, excitement, disappointment etc. all packaged neatly in a sharp looking potential employee, me!
While my insides are crumbling, I always have to present a pristine image to whoever holds the key to my gainful employment. Which is why I've listed down four films I always slump down to watch whenever I'm feeling lost and dejected:
Tiny Furniture, 2010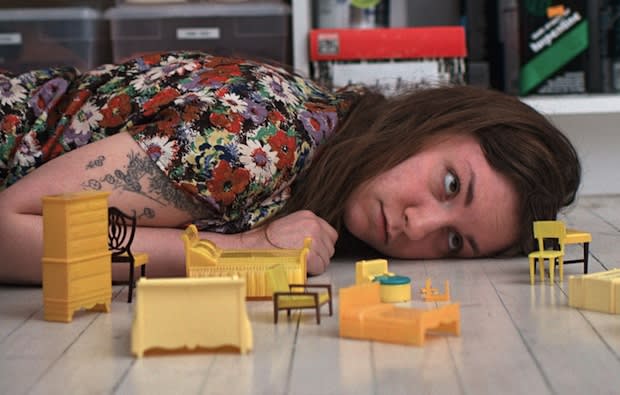 Aura is in a post-graduate haze, her boyfriend broke up with her right after graduation and she's just moved back into their New York family home with pretty nothing much to do while people around her seem to be doing just fine. She finds herself a job as a restaurant hostess, tries to figure out a new love life, reconnects with a childhood friend while figuring out what to do with her film degree. This film is Lena Dunham's directorial debut and first foray into filmmaking. While we may all have mixed feelings over Lena Dunham, Tiny Furniture is a highly relatable film for those fresh out of college.
Frances Ha, 2013
Description from IFC Films: Frances (Greta Gerwig) lives in New York, but she doesn't really have an apartment. Frances is an apprentice for a dance company, but she's not really a dancer. Frances has a best friend named Sophie, but they aren't really speaking anymore. Frances throws herself headlong into her dreams, even as their possible reality dwindles. Frances wants so much more than she has but lives her life with unaccountable joy and lightness. FRANCES HA is a modern comic fable that explores New York, friendship, class, ambition, failure, and redemption.
Reality Bites, 1994
Description from Rotten Tomatoes: Four recent graduates discover how difficult it is to find a decent job and true love after college.
–
As someone who came from a "prestigious university" and turned out cashiering at McDonald's and opening beer cans at a sports stadium, you could say this film was my bestfriend at a time when I was so unsure of myself. Luckily, like Lainie ( Wynona Rider) I had amazing friends and we were all in the same boat, so while things were at rock bottom, it still was quite a happy time for me. And you know, we weren't emotionally dead, just broke. And just like Lainie and her friends, we all eventually found our own paths.
The Graduate, 1967
From IMDB: Benjamin Braddock (Dustin Hoffman) has just finished college and, back at his parents' house, he's trying to avoid the one question everyone keeps asking: What does he want to do with his life? An unexpected diversion crops up when he is seduced by Mrs. Robinson (Anne Bancroft), a bored housewife and friend of his parents. But what begins as a fun tryst turns complicated when Benjamin falls for the one woman Mrs. Robinson demanded he stay away from, her daughter, Elaine (Katharine Ross).